Enhance Your Entire Swimming Pool Experience
Infusion Pool Products is a privately owned California LLC based out of Los Angeles. Infusion's sole proprieter has over 30 years of pool and spa product and construction experience! Our team of professionals is dedicated to raising the awareness of swimming pool energy efficiency while providing products that enhance your entire swimming pool experience.
We invite industry professionals with new innovative ideas to contact us regarding opportunities utilizing our engineering, manufacturing, and product placement expertise. See what some of our existing customers think of V-Fittings by visiting our Testimonials section.
---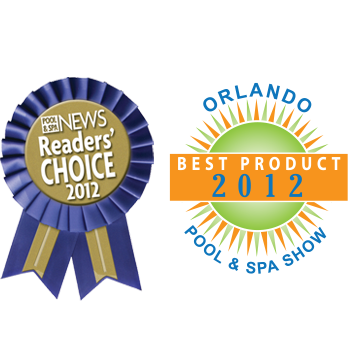 Infusion Pool Products' 2012 Top Product Awards!
Thanks to all of our supporters, Infusion Pool Products is elected by Pool & Spa News to the Products of 2012 and receives the Industry Voted Best Product award at the Orlando Pool & Spa show!
Read More
Featured Article
How to Make the Most of Variable Speed Pumps
Variable-speed pumps have set the new industry standard for efficiency, and many customers already know the energy-saving potential of these products. What they don't know is how to calculate that savings and get the most out of the pump they purchase.
By Rena Goldman, Rebecca Robledo
Go to Article
Enhance Any Fiberglass, Vinyl or Concrete Pool!
ANSI/APSP/ICC-15 Compliant — Available in Eight Designer Colors
How To Purchase Our V-Fittings™
Ask Your Preferred Distributor For Infusion Pool Products V-Fitting Availability.